Info:
Travel through 16 randomly created level as you try to kill the King of Hell in DIABLO. Play as a warrior, sorcerer, or rogue, and battle zombies, demons, and skeletons. Luckily, all of these pests are dispatched with swords, clubs, arrows, and a little magic. When requested, tackle additional quests from the villagers. All of the action is better than ever thanks to new lighting effects and the new double-speed mode. Experience a trip to Hell and back in DIABLO.
Features:
- Over 20 spells
- 300 magical items
- Over 100 monsters
- 16 randomly generated levels
- Three playable characters with unique attributes
System Requirements:
- Pentium-60
- 8MB RAM (16MB for Multiplayer)
- Windows 95 or better
- SVGA Video Card
- Microsoft Compatible Mouse
- Double Speed CD-ROM
Download Here:
Part 1
Part 2
Part 3
Part 4
Diablo I (Expansion) : Hellfire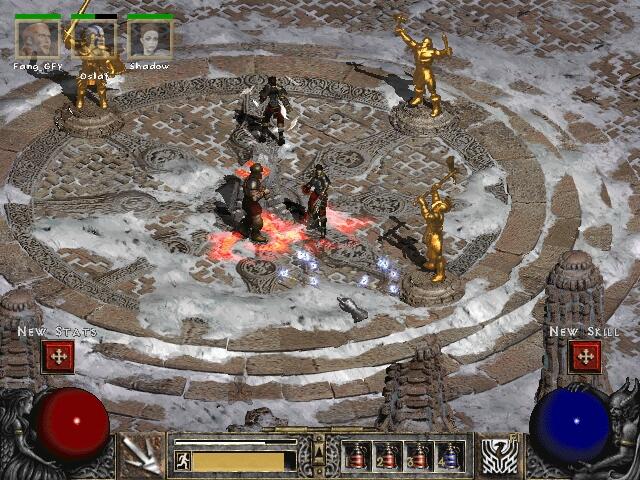 Info:
In 1997, after the mega-selling game Diablo, Sierra Studios released the only autorized expansion pack for it, called Hellfire. Hellfire expanded on parts of the game people wanted more of the most; a new Monk character class, (several others were also included but not visible without a special file), new enemies, new bosses, new weapons, spells, and more. It gave those tired with beating Diablo a brand new challenge to fight. The Hive was the scene of the new battles. With brand new rare items and new spells, the game of Diablo would never be the same again.
Features:
- Over 20 spells,
- 300 magical items,
- over 100 monsters,
- 16 randomly generated levels,
- three playable characters with unique attributes
System Requirements:
- Windows 95 or better
- P233 Mhz
- 32MB RAM (single player)
- 64MB RAM (multiplayer)
- 650MB hard drive space (single player)
- 950MB hard drive space (multiplayer)
- 4X CD-ROM
Download Here: Part 1
Part 2
Part 3
Part 4